Exodus 20:15
King James Version (KJV)
15
Thou shalt not steal.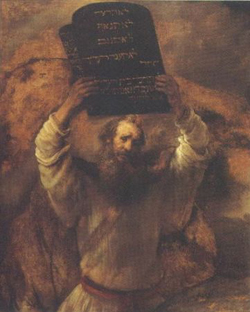 8th Commandment of God
Thou Shalt Not Steal - The 8th Commandment of God
While the Eighth Commandment of God specifically prohibits stealing, all of the last 6 Commandments are based on not stealing - not stealing the honor away from parents (the Fifth Commandment), not stealing someone's life from them (the Sixth Commandment), not stealing someone's spouse (the Seventh Commandment), not stealing the truth from someone (the Ninth Commandment) and not planning to steal a possession from someone (the Tenth Commandment).
"The Commandments, "Thou Shalt not commit adultery, Thou shalt not kill, Thou Shalt not steal, Thou Shalt not covet," and any other Commandment, are summed up in this sentence, "Thou Shalt love your neighbor as yourself." Love does no wrong to a neighbor; therefore love is the fulfilling of the Law." (Romans 13:9-10 RSV)
There is no such thing as "petty theft" in God's sight - the character of those who steal a little is the same as those who steal much:
"He who is faithful in a very little is faithful also in much; and he who is dishonest in a very little is dishonest also in much. If then you have not been faithful in the unrighteous mammon, who will entrust to you the true riches? And if you have not been faithful in that which is another's, who will give you that which is your own? No servant can serve two masters; for either he will hate the one and love the other, or he will be devoted to the one and despise the other. You cannot serve God and mammon." The Pharisees, who were lovers of money, heard all this, and they scoffed at Him." (Luke 16:10-14 RSV)
The only recorded incident in which Jesus Christ resorted to violence is when He was driving out "white collar" thieves from the Temple:
"And Jesus entered the Temple of God and drove out all who sold and bought in the Temple, and He overturned the tables of the money-changers and the seats of those who sold pigeons. He said to them, "It is written, 'My House shall be called a house of prayer'; but you make it a den of robbers." (Matthew 21:12-13 RSV)
Will man rob God?
"Will man rob God? Yet you are robbing Me. But you say, 'How are we robbing Thee?' In your tithes and offerings. You are cursed with a curse, for you are robbing Me; the whole nation of you. Bring the full tithes into the storehouse, that there may be food in My house; and thereby put Me to the test, says The Lord of hosts, if I will not open the windows of heaven for you and pour down for you an overflowing blessing." (Malachi 3:8-10 RSV)
Unrepentant thieves, as well as all unrepentant sinners, will not enter the Kingdom of God. But with repentance, true repentance, comes forgiveness, as evidenced among the early church:
"Do you not know that the unrighteous will not inherit the Kingdom of God? Do not be deceived; neither the immoral, nor idolaters, nor adulterers, nor sexual perverts, nor thieves, nor the greedy, nor drunkards, nor revilers, nor robbers will inherit the Kingdom of God. And such were some of you. But you were washed, you were sanctified, you were justified in the Name of the Lord Jesus Christ and in the Spirit of our God." (1 Corinthians 6:9-11 RSV)
"Let the thief no longer steal, but rather let him labor, doing honest work with his hands, so that he may be able to give to those in need" (Ephesians 4:28 RSV)
8th Commandment of God bring you these Bible verses
Hebrews 12:1:
Therefore, since we are surrounded by such a great cloud of witnesses, let us throw off everything that hinders and the sin that so easily entangles, and let us run with perseverance the race marked out for us.

James 5:16:
Therefore confess your sins to each other and pray for each other so that you may be healed. The prayer of a righteous man is powerful and effective.

Acts 17:11:
Now the Bereans were of more noble character than the Thessalonians, for they received the message with great eagerness and examined the Scriptures every day to see if what Paul said was true.