Life Chain Info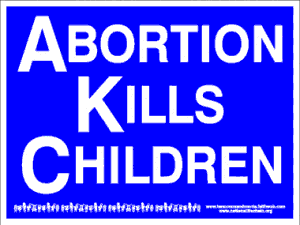 Life Chain, A Pro Life Anti-Abortion Witness To Your Community
Annually, on the first Sunday in October, LIFE CHAIN invites the churches in each city and town across North America to stand on a designated local sidewalk and pray for one hour, while holding one of the following approved pro-life sign messages:

ABORTION KILLS CHILDREN
JESUS FORGIVES AND HEALS
ADOPTION: THE LOVING OPTION
LORD, FORGIVE US AND OUR NATION
ABORTION HURTS WOMEN
PRAY TO END ABORTION
LIFE—THE FIRST INALIENABLE RIGHT

In 2007, well over 1,300 Life Chains were built in America and Canada, and the focus is now on National Life Chain Sunday 2008—to be held October 5, Lord willing, from 2:30 to 3:30 in each time zone across North America. To include your city in 2007, notify National Life Chain of your interest via email National Life Chain or call (530) 674-5068 and download (from this web site) a copy of the Life Chain Manual, along with "15 Steps To A Strong Life Chain." Thereafter, inform your local pastors of your Life Chain plans as early in the New Year as possible, and ask them to schedule your Chain on their church calendar. Early notification to pastors helps to emphasize that your Life Chain is important to you and, hopefully, that it will be to the pastors, also.
To include your city in National Life Chain Sunday, first Sunday of October, contact Life Chain's sponsor, "Please Let Me Live" at 530-671-5500 or by email at: NationalLifeChain@otn.net or view the http://www.nationallifechain.org website. All materials needed are readily available. Pro-Life Yard Signs (Abortion Kills Children) to supplement the Life Chain can be found at http://observethetencommandments.info. A well placed yard sign can be seen by thousands every day, all year long. To find a partial list of Life Chain locations across the United States and Canada, go to http://lifechain.net


Pro Life
Pro-life describes the political and ethical opposition to elective abortion, and support for its legal prohibition or restriction. Those involved in the pro-life movement generally maintain that human fetuses and, in most cases, embryos are persons, and therefore have a right to life. The pro-life position is commonly supported among several Christian and Muslim countries.[1] On the issue of abortion, pro-life campaigners are opposed by pro-choice campaigners, who generally advocate for women's reproductive rights.
Life Chain Signs

These durable 18"x24" signs may be used during a Life Chain. After the Life Chain, they can be used at other Pro-Life or Anti Abortion Events. Optional wire stand allows one to establish a pro-life - anti abortion witness to their city all year long. Made of durable chloroplast, These signs will withstand the outside weather for 3 years in southern states. Some people, use a ladder and nail these to trees for a permanent witness to the community!

To order, e-mail us at

, or call 941-451-4113
.



"Abortion Kills Children" signs
1-9 Signs
$3.25 each
10-49 Signs
$2.50 each
50-99 Signs
$2.00 each
100+ Signs
$2.00 each (with free
shipping)
Wire stands are an additional each.
Shipping and handling is $5 per order, plus 40 cents a sign. Shipping on 100 or more signs is free.
Contact before order to insure stock is on hand.

Shipping and handling for 18" x 24" signs
Shipping is per sign
Shipping for 100 signs, call us.
Handling is $4.00 per order.
Latest Pro-Life News
Pro Life T-Shirts - Pro Life Stickers
Be a Christian witness to your community using pro life T-shirts. A conservative or patriotic t-shirt from the Pro Life Depot sends a message.
| | |
| --- | --- |
| | |
| Pro Life T-Shirts | American Pro Life T-Shirts |

Pro Life T-Shirts
Pro Life Stickers
Pro Life Precious Feet
Be a witness to your community using pro life T-shirts. A car bumper sticker or wearing the precious feet sends a message.
ABORTION KILLS CHILDREN
Abortion violates God's command, "Thou shalt not kill."
Pro Life Anti Abortion
God says that children are His gifts to those He wants to bless. Read this Psalm carefully to grasp the pro life anti abortion message:

Psalms 127:1

Except the LORD build the house, they labour in vain that build it: except the LORD keep the city, the watchman waketh but in vain.

Psalms 127:2

It is vain for you to rise up early, to sit up late, to eat the bread of sorrows: for so he giveth his beloved sleep.

Psalms 127:3

Lo, children are an heritage of the LORD: and the fruit of the womb is his reward.

Psalms 127:4

As arrows are in the hand of a mighty man; so are children of the youth.

Psalms 127:5

Happy is the man that hath his quiver full of them: they shall not be ashamed, but they shall speak with the enemies in the gate."

Deuteronomy 8:1

All the commandments which I command thee this day shall ye observe to do, that ye may live, and multiply, and go in and possess the land which the LORD sware unto your fathers.

The Bible teaches us to be pro life and anti abortion.

Weekly Bible Verses



Deuteronomy 30:16-20

16. "In that I command thee this day to love the LORD thy God, to walk in his ways, and to keep his commandments and his statutes and his judgments, that thou mayest live and multiply: and the LORD thy God shall bless thee in the land whither thou goest to possess it.
17. But if thine heart turn away, so that thou wilt not hear, but shalt be drawn away, and worship other gods, and serve them;
18. I denounce unto you this day, that ye shall surely perish, and that ye shall not prolong your days upon the land, whither thou passest over Jordan to go to possess it.
19. I call heaven and earth to record this day against you, that I have set before you life and death, blessing and cursing: therefore choose life, that both thou and thy seed may live:
20. That thou mayest love the LORD thy God, and that thou mayest obey his voice, and that thou mayest cleave unto him: for he is thy life, and the length of thy days: that thou mayest dwell in the land which the LORD sware unto thy fathers, to Abraham, to Isaac, and to Jacob, to give them."


Jesus is Lord

"Jesus is Lord" was a corporate confession of the Christian community. One of the most striking but overlooked features of the New Testament is the frequency and simplicity with which Jesus is referred to as "the Lord" or "our Lord". In Romans, his greeting includes an extended description of the gospel, which concerns "Jesus Christ our Lord" (Rom. 1:3), and he wishes them grace and peace "from God our Father, and the Lord Jesus Christ" (Rom. 1:7). Those who believe Jesus is Lord, do not approve of abortion.
Jesus Is Lord