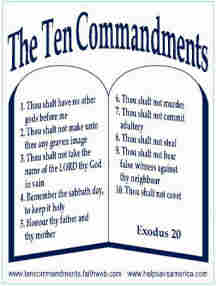 The Ten Commandments are in the Bible - Put a Decal on Your Window - The Law of Moses

Warning: Use of undefined constant DOCUMENT_ROOT - assumed 'DOCUMENT_ROOT' (this will throw an Error in a future version of PHP) in /home/commandments/public_html/ten_commandments/decal.phtml on line 233

Law of Moses
Ten Commandments window decals are available! You can put these on the windows of your car to show your support of the Ten Commandments. The Ten Commandments are displayed as above on a transparent background. These are removable stickers.
Cost of decals, including shipping and handling:
1 = $1.00
4 = $3.00
12 = $5.00
30 = $10.00
70 = $20.00
To get your Ten Commandments window decals containing a summary of the Law of Moses, write to the address below, or call toll free 1-877-210-5266, or send us an e-mail. We appreciate your donations to help us continue supporting the Ten Commandments that are in the Bible.


Huge selection of Ten Commandments Products -Magnets and Car Tags and more-- Click here! The 10 Commandments
To see Ten Commandments Stone Tablets - Great Gift Ten Commandments Stone Tablets
The Ten Commandments Are The Law From Moses
Given by God

Exodus 24:12
And the LORD said unto Moses, Come up to me into the mount, and be there: and I will give thee tables of stone, and a law, and commandments which I have written; that thou mayest teach them.

Deuteronomy 4:13
And he declared unto you his covenant, which he commanded you to perform, even ten commandments; and he wrote them upon two tables of stone.



Ten Commandments in the Bible are for Kids, containing a summary of the law of Moses

1. Thou shalt have no other gods before me.
2. Thou shalt not make unto thee any graven image.
3. Thou shalt not take the name of the Lord thy God in vain.
4. Remember the sabbath day, to keep it holy.
5. Honour thy father and thy mother.
6. Thou shalt not kill.
7. Thou shalt not commit adultery.
8. Thou shalt not steal.
9. Thou shalt not bear false witness against thy neighbor.
10. Thou shalt not covet.

This Week In Christian History:

March 12, 417: Pope Innocent I dies. His claims for the Roman see's supremacy went farther than any of his predecessors, as he asserted Rome's reach extended to the whole church.

March 12, 604: Gregory the Great, pope from 590 to 604, dies. Setting a high mark for the medieval papacy, he defended the primacy of the chair of Peter against even the smallest slight. He is also one of the four great Latin doctors of the church (along with Ambrose,Augustine, and Jerome), and upon his death, he was named a saint by popular acclaim.

March 14, 1872: Journalist Henry Stanley and explorer-missionary David Livingstone part company, having spent the last five months in Africa together. Stanley returned to England to write his bestseller, How I Found Livingstone. Livingstone, in the meantime, got lost again—in a swamp literally up to his neck. Within a year and a half, he died in a mud hut, kneeling beside his cot in prayer


March 15, 1672: Charles II issues his first declaration of indulgence, suspending Parliament's legislation against Catholic and Protestant dissenters. He was soon forced to rescind the declaration, however, and the following year issued the Test Act, which drove Catholics out of public office.

Deuteronomy 7:9
Know therefore that the LORD thy God, he is God, the faithful God, which keepeth covenant and mercy with them that love him and keep his commandments to a thousand generations;

More laws from Moses,

Exodus 34:28
And he was there with the LORD forty days and forty nights; he did neither eat bread, nor drink water. And he wrote upon the tables the words of the covenant, the ten commandments.

Deuteronomy 5:2
The LORD our God made a covenant with us in Horeb.

Ten Commandments of the Bible

Mark 10:19
Thou knowest the commandments, Do not commit adultery, Do not kill, Do not steal, Do not bear false witness, Defraud not, Honor thy father and mother.


Deuteronomy 4:13
And he declared unto you his covenant, which he commanded you to perform, even ten commandments; and he wrote them upon two tables of stone.

Deuteronomy 4:40
Thou shalt keep therefore his statutes, and his commandments, which I command thee this day, that it may go well with thee, and with thy children after thee, and that thou mayest prolong thy days upon the earth, which the LORD thy God giveth thee, for ever.

Keeping the Ten Commandments brings good health

Exodus 15:26
And said, If thou wilt diligently hearken to the voice of the LORD thy God, and wilt do that which is right in his sight, and wilt give ear to his commandments, and keep all his statutes, I will put none of these diseases upon thee, which I have brought upon the Egyptians: for I am the LORD that healeth thee.