Jesus is Lord
Jesus is Lord of all
I Corinthians 12:3 For this reason, I make known to you that no one speaking by [the] Spirit of God, says "Jesus [is] accursed" [Gr., anathema], and no one is able to say "Jesus [is] Lord," except by [the] Holy Spirit.

Philippians 2:11 and every tongue shall confess that Jesus Christ is Lord to the glory of God the Father!
Lord Jesus Christ - Jesus is Lord
Verses dealing with the Lordship of Christ:
Matthew 12:8 For the Son of man is Lord even of the sabbath day.
Luke 6:5 And he said unto them, That the Son of man is Lord also of the sabbath.
Acts 10:36 The word which God sent unto the children of Israel, preaching peace by Jesus Christ: (he is Lord of all:)
Acts 17:24 God that made the world and all things therein, seeing that he is Lord of heaven and earth, dwelleth not in temples made with hands;
Philippians 2:11 And that every tongue should confess that Jesus Christ is Lord, to the glory of God the Father.
Revelation 17:14 These shall make war with the Lamb, and the Lamb shall overcome them: for he is Lord of lords, and King of kings: and they that are with him are called, and chosen, and faithful.


---
Jesus is Lord over Belcher Kentucky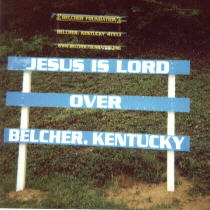 Jesus is Lord
Residents of the town installed their own "Jesus is Lord" signs on their own property, and it was reported that now the signs have spread all across the state--and to other states, as well. "Jesus is Lord" is both a sign of good cheer and an acknowledgment of truth.
The Belcher Foundation at Belcher, Kentucky 41513 (whose national focus includes church and state issues) has decided to install its own blue and white sign reading:
JESUS IS LORD
OVER

BELCHER, KENTUCKY

This sign acknowledges that Jesus is Lord--over Belcher, Kentucky and everywhere else.

The "Jesus is Lord over Belcher, Kentucky" sign, whose cloud-white letters are superimposed upon a heaven-blue background, fits in with the Belcher Foundation's historical focus on America's Christian heritage.


---
The Ecclesiastical Significance of the Confession, "JESUS IS LORD"
If the confession "Jesus is Lord" bore such full and weighty content within the context of primitive Christianity, then the question next arises, what was the practical significance of this confession for the life of the church? What place did it occupy in the lives of early Christian believers and worshipping communities? The New Testament makes several points clear.
The Central Confession
First, "Jesus is Lord" was the central confession of early Christianity. Thus Paul writes in Romans 10:9, in a passage which many scholars regard as a pre-Pauline formulation of the gospel, "That if thou shalt confess with thy mouth the Lord Jesus, and shalt believe in thine heart that God hath raised him from the dead, thou shalt be saved." The confession and belief referred to, of course, imply trust in Jesus as the crucified and risen Savior and constitute an explicit acknowledgment of him as the exalted Lord. Another embodiment of this early confession is found in I Corinthians 12:3, where Paul writes, "no man can say that Jesus is the Lord, but by the Holy Ghost." Here Paul seems to assume that "Jesus is Lord" is the basic confession of the Christian fellowship. A passage already examined, Philippians 2:9-11, incorporates this confession as that which will be offered by the whole universe on that day when all must stand before God and acknowledge that "Jesus Christ is Lord." Such strong indications as these leave little room to doubt that the confession "Jesus is Lord" occupied a prominent place as the central Christian confession of the New Testament era: it was that affirmation to which every Christian gave assent and which distinguished the Christian community from the unbelieving world. British scholar A. M. Hunter concludes from the New Testament evidence, "the confession of [Jesus'] Lordship--probably at baptism--made up the earliest Christian confession."
A Personal Confession of Jesus is Lord
Second, the confession of Jesus' Lordship was a personal confession. It was an expression of the individual believer's convictions and trust. The Apostle Paul makes this confession pointedly personal when he writes, "That if thou shalt confess with thy mouth the Lord Jesus, and shalt believe in thine heart that God hath raised him from the dead, thou shalt be saved." (Rom. 10:9). The personal nature of the confession was also perfectly captured by the believing Thomas when he exclaimed upon seeing the risen Savior; "My Lord and my God" (John 20:28). George Ladd has again summed up the New Testament position quite well: "The Christian confession of the Lordship of Jesus means the recognition of what God has done in exalting Jesus, and personal submission to and acceptance of his Lordship." While this element may not be explicit in every instance of faith observed in the New Testament, the evidence warrants the conclusion that it was implicit and that no one could be considered a Christian or admitted to the Christian community while rejecting the Lordship of Jesus. Jesus is Lord.
A Corporate Confession
Third, "Jesus is Lord" was a corporate confession of the Christian community. One of the most striking but overlooked features of the New Testament is the frequency and simplicity with which Jesus is referred to as "the Lord" or "our Lord", suggesting that he is the commonly acknowledged Lord of the entire Christian community. Two random examples will suffice to illustrate this phenomenon. Observe how Paul opens his letters to the Roman and Corinthian Christians. In Romans, his greeting includes an extended description of the gospel, which concerns "Jesus Christ our Lord" (Rom. 1:3), and he wishes them grace and peace "from God our Father, and the Lord Jesus Christ" (Rom. 1:7). The former of these phrases is particularly emphatic in the Greek, which literally reads "Jesus Christ the Lord of us." Paul simply assumes that all Christians in fact acknowledge Jesus as Lord. Again, in I Corinthians 1:2 Paul extends greetings to "them that are sanctified in Christ Jesus, called to be saints, with all that in every place call upon the name of Jesus Christ our Lord, both their's and our's." Here Paul virtually defines Christians as those who "call upon the name of the Lord of us Jesus Christ," then most explicitly identifies Christ as the Lord "of them and of us." It is particularly striking, in view of the lack of practical holiness in the Corinthian church, that Paul refers to the believers there as those who have acknowledged in principle that Jesus is Lord, even if they were imperfectly working out the implications of his Lordship in their personal lives and in congregational matters. All this simply underlines the fact that Christians were those who acknowledged the Lordship of Jesus and that this common confession served to identify them as a people and to distinguish them from the world. Christians together adhered to and found their corporate identity in the confession "Jesus is Lord."
Jesus My Lord
An Eschatological Confession

Fourth, "Jesus is Lord" was an eschatological confession. By means of this confession the early Christian community was expressing two closely-related convictions: that God had inaugurated a new era--the kingdom of God--with the life, death, and exaltation of Jesus; and that Jesus would return in glory to bring God's kingdom to its consummation. Such was the sentiment of the Aramaic exclamation in I Corinthians 16:22, "Maranatha," meaning "[our] Lord, come." The ascription of Lordship to Jesus spoke with confidence of God's final victory over sin, death, and all that opposed God's rule. Jesus my Lord.


Information taken from http://www.founders.org/FJ06/article1.html. It is a great theological site dealing with our Lord Jesus Christ and the confession of "Jesus is Lord".



---

Jesus Is Lord
Jesus Is Lord! If you can say amen to that, consider procliaming it from your yard. This new sign measuring 18"x24" is made of durable chloroplast, gauranteed to last the outside weather at least three years, planted firmly in the ground by an H-shaped steel wire stand.
To order, e-mail us at

, or call 256-523-6425
.



Jesus Is Lord signs
1-2 Signs
$8.95 each
3-9 Signs
$6.95 each
10-19 Signs
$4.95 each
20-49 Signs
$3.95 each
20-49 Signs
$2.95 each
50+ Signs
$2.85 each
Wire stands are an additional $.70 each.




Shipping and handling for 18" x 24" signs
Eastern and Central Time Zones: $.40 per sign
Mountain and Pacific Time Zones: $.55 per sign
Shipping for 50 or more signs is free.
Handling is $4.00 per order.