There Is Only One
Patriotic Yard Signs
Make a statement and take a stand for our great country and the flag that is flown for freedom. Get a bumper sticker, either magnetic or stick-on. Or you can get a larger one if you have a truck, an SUV or a van with more space. And if you are really courageous or bold and want to make a strong stand within your community you can get a yard sign.

We need to get back to our foundations and remember our heritage. Today people are interested in their family heritage and knowing where they came from. Well, for us this country is part of our heritage. We must stand up for what this country stands for and was founded upon. We went through a "great civil war," to quote President Lincoln, which would have divided this nation. However, it was strong enough to withstand that and remains the United States of America. The flag that is flown by many is a banner that symbolizes freedoms and that this is a united country. We are one nation that has one flag, and our founding fathers followed the statutes of one God.

We are again at the crossroads of a different kind of civil war that is trying to divide our great, united nation. Let's look for the things that will and can unite us as a people rather than divide us.

Just as Abraham alone petitioned God to spare His judgment on a city, the few of us Christians can seek God to deliver this country from the disaster that is looming on the horizon if we, the people of this country, don't change our ways. Look at, read, and meditate on 2 Chronicles 7:14. That's us, Christians! It will not be by the legal system set up by man with all kinds of laws that are not adhered to and followed. It will be "by my Spirit, saith the Lord of hosts."
Christian Patriotic T-Shirts
Patriotism, in the most elementary sense of the term (the word derives from the Latin patria or "fatherland"), suggests the loyalty that all citizens owe to their country or nation. With varying degrees of intensity, nearly all Americans claim to be patriotic citizens of the republic. But the term also has a narrower, more specific history, with sharper political implications. In the two centuries since the Revolutionary War, patriotism has tended to shift from a left‐wing to a right‐wing cause. To everyone invoking a patriot identity, the label implied placing loyalty to one's country ahead of personal interest or factional causes. The label "Patriot or Patriotic," at least in its partisan sense, is recently shifting even further to the right. It has been actively appropriated by paramilitary militia movements around the country, which now seem to equate "Patriot" with a fierce hatred for most actions of the federal government. The ability to capture the label remains an important touchstone in American public life. Be patriotic, wear a patriotic t-shirt with our colors. Patriotic T-Shirts
Christian Yard Signs
We need to keep God in our documents, declarations, and lives. That means to keep prayer in the House and Senate when they begin, keep the Ten Commandments in our courts, keep the word "God" to be allowed to be used even in legal and political situations. After all, we do not name Him as the other religions do. They want to worship and talk about Buddha or Mohammad or whatever their god's name is. Yet we can't even mention the word "God."

If you are more patriotic than Godly, you can still display a sign to make a statement and take a stand to support this great nation and the banner that we fly. Show your patriotism and get a sign, make a statement, and take a stand showing that "there is only one."

To order please email isp_poet@hotmail.com or call (207) 793-8838, Ask about Quantity Discount
Support our Troops Patriot Yard Sign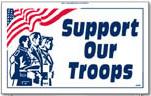 Durable polycoat signs - a material similar to cardboard milk cartons. Wire stands included. Signs are 2 sided. Size of sign is 16"x26".
Currently out of stock. Please call us if you need some printed.
Have your lawn signs or bumper stickers custom made, your design lawn signs - bumper stickers
Patriotic lawn signs are now available! Show your patriotism by placing this yard sign in your yard. Take pride in your country by displaying our national motto "In God We Trust." Also available are God bless America yard signs. Both signs picture an American flag on the sign in addition to the text. Both yard signs are made out of high quality chloroplast plastic and, will withstand weather. We guarantee these plastic signs to last 3 years. The lawn signs are printed on both sides of the sign. Wire stands are included. The price for one sign is only $4.50, a deal you won't find anywhere else! For 10 signs or more the price is $4.00, an even better price. Prices are shown in the table below. You may be eligible for a free sign and bumper stickers for your church; click here for details.
Prices for Patriotic Signs
Quantity
2-sided Signs
2-9 Signs
$ each
10 or More Signs
$ each
Wire stands are included in these prices.
Currently out of stock. Please call us if you need some printed.
Shipping is $.40 per sign; handling is $4.00 per order. Example, the total shipping and handling for one sign is $4.40, for two signs it is $4.80, for three signs it is $5.20, etc.
We are currently out of stock. If you would like to order a large quantity of signs (50 or more), call 256-523-6425
and we will make them for you. Contact us for prices. contact us to make other patriotic products like bumper stickers Bumper Sticker , please visit We also make plastic Christian Yard Signs. plastic signs


Reward for keeping commandments.

Mark 10:19
"The commandments you know: 'You shall not commit adultery; You shall not murder; You shall not steal; You shall not give false testimony; You shall not defraud; Honor your father and mother.'"

John 15:10
If you obey my commands, you will continue in my love, as I have obeyed my Father's commands and continue in His love.

1 Corinthians 7:19
Circumcision is nothing, and uncircumcision is nothing: obedience to God's commandments is everything.

Deuteronomy 7:11
Thou shalt therefore keep the commandments, and the statutes, and the judgments, which I command thee this day, to do them.

Deuteronomy 8:1
All the commandments which I command thee this day shall ye observe to do, that ye may live, and multiply, and go in and possess the land which the LORD sware unto your Fathers.


Ten Commandments in the Psalms

Psalm 19:8
The ordinances of the Lord are right, rejoicing the heart: the commandment of the Lord is bright, enlightening the eyes.

Psalm 19:9
The fear of the Lord is pure, enduring for ever and ever: the judgments of the Lord are true, and justified altogether.

Psalm 19:10
To be desired more than gold, and much precious stone: sweeter also than honey and the honey-comb.


Jesus Teachs the Law and Commandments


Matthew 5:17-22
17 "Do not for a moment suppose that I have come to abrogate the Law or the Prophets: I have not come to abrogate them but to give them their completion.
18 Solemnly I tell you that until Heaven and earth pass away, not one iota or smallest detail will pass away from the Law until all has taken place.
19 Whoever therefore breaks one of these least commandments and teaches others to break them, will be called the least in the Kingdom of the Heavens; but whoever practises them and teaches them, he will be acknowledged as great in the Kingdom of the Heavens.
20 For I assure you that unless your righteousness greatly surpasses that of the Scribes and the Pharisees, you will certainly not find entrance into the Kingdom of the Heavens.
21 "You have heard that it was said to the ancients, 'THOU SHALT NOT COMMIT MURDER', and whoever commits murder will be answerable to the magistrate.
22 But I say to you that every one who becomes angry with his brother shall be answerable to the magistrate; that whoever says to his brother 'Raca,' shall be answerable to the Sanhedrin; and that whoever says, 'You fool!' shall be liable to the Gehenna of Fire.
Weekly Bible Verses

Galatians 1:16
To reveal his Son in me, that I might preach him among the heathen; immediately I conferred not with flesh and blood:


Deuteronomy 11:18-23, 26-28
18 And ye shall store these words in your heart and in your soul, and ye shall bind them as a sign on your hand, and it shall be fixed before your eyes.
19 And ye shall teach them to your children, so as to speak about them when thou sittest in the house, and when thou walkest by the way, and when thou sleepest, and when thou risest up.
20 And ye shall write them on the lintels of your houses, and on your gates;
21 that your days may be long, and the days of your children, upon the land which the Lord sware to your fathers to give to them, as the days of heaven upon the earth.
22 And it shall come to pass that if ye will indeed hearken to all these commands, which I charge thee to observe this day, to love the Lord our God, and to walk in all his ways, and to cleave close to him;
23 then the Lord shall cast out all these nations before you, and ye shall inherit great nations and stronger than yourselves.
26 Behold, I set before you this day the blessing and the curse;
27 the blessing, if ye hearken to the commands of the Lord your God, all that I command you this day;
28 and the curse, if ye do not hearken to the commands of the Lord our God, as many as I command you this day, and ye wander from the way which I have commanded you, having gone to serve other gods, which ye know not.
Bumper sticker, 3"x11.5", magnetic ($5.00) or stick-on ($2.00)
Vehicle sign, 12"x18", magnetic ($15.00) or stick-on ($5.00)
Choice of white or blue
Yard sign, 18"x24", white on one side, blue on the other - comes with wire stand ($12.00)
To order please call 256-523-6425
, Ask about Quantity Discount