Life Chain Info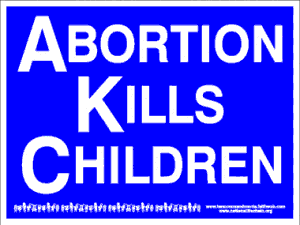 Pro Life Abortion
Life Chain, A Pro Life Witness To Your Community
Life Chain - First Sunday of October, Stand Against Abortion
To include your city in National Life Chain Sunday, in October, contact Life Chain's sponsor, "Please Let Me Live" at 530-671-5500 or by email at NationalLifeChain@otn.net or view the http://www.nationallifechain.org website. All materials needed are readily available. Pro-Life Yard Signs (Abortion Kills Children) to supplement the Life Chain can be found on this page. A well placed yard sign can be seen by thousands every day, a witness against abortion all year long. To find a partial list of Life Chain locations across the United States and Canada, go to http://lifechain.net
Life Chain Signs
These durable 18"x24" signs may be used during a Life Chain. After the Life Chain, they can be used at other Pro-Life or Against Abortion Events. Optional wire stand allows one to establish a pro-life - anti abortion witness to their city all year long.
Annually, on the first Sunday in October, LIFE CHAIN invites the churches in each city and town across North America to stand on a designated local sidewalk and pray for one hour, while holding one of the following approved pro-life sign messages:

* ABORTION KILLS CHILDREN
* JESUS FORGIVES AND HEALS
* ADOPTION: THE LOVING OPTION
* LORD, FORGIVE US AND OUR NATION
* ABORTION HURTS WOMEN
* PRAY TO END ABORTION
* LIFE THE FIRST INALIENABLE RIGHT
In 2004, well over 1,000 Life Chains were built in America and Canada, and the focus is now on National Life Chain Sunday, first Sunday of October, Lord willing, from 2:30 to 3:30 in each time zone across North America. To include your city, notify National Life Chain of your interest via email National Life Chain or call (530) 671-5500 and download (from this web site) a copy of the Life Chain Manual, along with "15 Steps To A Strong Life Chain." Thereafter, inform your local pastors of your Life Chain plans as early in the New Year as possible, and ask them to schedule your Chain on their church calendar. Early notification to pastors helps to emphasize that your Life Chain is important to you and, hopefully, that it will be to the pastors, also.
The easy-to-hold 18" x 22" Life Chain signs are backprinted to feature Prayer Topics, Songs of Meditation, the Life Chain Code of Conduct, and a compelling statement on The Purpose of LIFE CHAIN. In addition to the prayer topics listed, local pastors are encouraged to add other prayer topics and to instruct their people in how to pray and meditate for a full hour.
During the Life Chain hour, idle chatter, frivolity, and both verbal and physical responses to motorists are strongly discouraged. LIFE CHAIN is a time for prayerful self-analysis, repentance, and serious commitment to helping end abortion in our nation.
Life Chain Yard Signs Brings you these Weekly Bible Verses
Psalm 27:1-14

Last Sunday of October for those who cannot get organized in time for the first Sunday of October.
Will NATIONAL LIFE CHAIN SUNDAY Include Your City?
More than 1,000 cities and towns across North America were involved in Life Chain last year, and on October 2 prolifers will have another opportunity to build a powerful local witness for God to anoint and use to save the lives of local boys and girls. Will unborn children in your city have Life Chain protection? Only 53 life defenders standing 100 feet apart can build a mile-long Life Chain. Imagine 500 prolifers building a Chain 10 miles long! And the cost is very low, about 25 cents per person, to be covered by freewill donations. Send a powerful argument against abortion in your city.
You can include your city in National Life Chain Sunday, the first Sunday in October, contact Life Chain's sponsor, "Please Let Me Live" at 530-671-5500 or by email at NationalLIfeChain@otn.net or view the www.NationalLifeChain.org website. All materials needed are readily available. Pro-Life Yard Signs (Abortion Kills Children) to supplement the Life Chain can be found at Ten Commandments A well placed yard sign can be seen by thousands every day, all year long. To find a partial list of Life Chain locations across the United States and Canada, go to LifeChain.net.


What are the benefits of promoting the Life Chain and Pro-Life Yard signs?
1. Life Chain has involved millions of people in over 1,000 cities.
2. For this annual event, several million people will be informed of the importance of Pro-Life.
3. Millions of people each year will participate in a Life Chain. Millions more will see a Life Chain or will see an article about it in a newspaper or other news media. The Life Chain prolife message has touched the majority of Americans.
4. Most of the organizers of Life Chains, are actively involved in crisis pregancy center or a state or local pro-life organization. A major indirect result is as a result of the church contacts and participation, the Life Chain has become an active recruiting tool for local and state pro-Life organizations. Many volunteers for the crisis pregancy centers and new members of many pro-life organizations have been recruited through the Life Chain. This side benefit alone against abortion, makes this event worth while.
5. Life Chain has contributed to the growth of many Pro-Life organizations and has made millions aware of the arguments against abortion problem.
6. The colorful Pro-Life yard signs will continue against evil with the Pro-Life abortion message all year long. Just one well placed yard sign can effect thousands of people each day. A few yard signs will effect thousands of people every day, and will have a lasting effect on your community. Only God knows how many people this witness will touch one about to have an abortion.

We at Life Chain thank you for visiting our site.