The Ten Commandments
Christian Yard Sign - 1 Color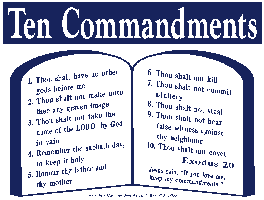 Ten Commandments
Full Color Yard Sign
Over 200,000 Christian Yard Signs shipped to 48 states.
Over 1700 churches have purchased at least 100 Ten Commandments yard signs to display in their community. Georgia leads the nation with over 21,150 yard signs. Houston Country, Alabama leads in having more signs in any one county with over 5,000 yard signs. These beautiful Ten Commandments signs are available both in the standard yard signs size of 18x24 inches, and in the larger size of 2' x 3'. Tem Ten Commandments Christian yard signs are made on long lasting chloroplast plastic. The 18" x 24" signs are two-sided, and the 2' x 3' signs are one-sided. Wire stands are available for the 18" x 24" signs. We also recommend that you buy wooden stakes locally for the 2' x 3' signs. Alternatively, they could be nailed to a tree or post. All lettering is in Blue and Blue Reverse These Ten Commandments yard signs are in the King James Version.
Prices for common quantities of 18" x 24" Ten Commandments yard signs (1 Color) with wire stands and shipping included.
Quantity
Eastern/Central time zones
Mountain/Pacific time zones
1
$10.95
$10.95
5*
$24
$26
10**
$39
$42
20
$73
$76
25
$89
$93
50
$135
$140
100
$215
$225




Prices for 2' x 3' Ten Commandments signs
Sign not shown here (old style)
1-4
$8.00 each (plus shipping)
5-9
$6.50 each (plus shipping)
10-19
$6.00 each (plus shipping)
50 or more
$4.95 each (plus shipping)

Currently out of stock.
Only taking orders for quantities of 50 or more.
* Special: Free Ten Commandments Car Tag with purchase of 5 or more signs.

** Extra Special: With purchase of 10 or more signs, receive a Ten Commandments Magnet (size 5 X 7 inches for car or refrigerator) and also a free Ten Commandments Car Tag.
For Ten Commandments Magnets, signs, car tags, and many other gift items 10 Commandments are also available. A church or business may with to have their own car tags custom made. If so, contact: Car Tags.
Ten Commandments Verses for Kids
Leviticus 26:14-16
14
But if ye will not hearken unto me, and will not do all these commandments;
15
And if ye shall despise my statutes, or if your soul abhor my judgments, so that ye will not do all my commandments, but that ye break my covenant:
16
I also will do this unto you; I will even appoint over you terror, consumption, and the burning ague, that shall consume the eyes, and cause sorrow of heart: and ye shall sow your seed in vain, for your enemies shall eat it.
Deuteronomy 8:1
All the commandments which I command thee this day shall ye observe to do, that ye may live, and multiply, and go in and possess the land which the LORD
Numbers 15:39
And it shall be unto you for a fringe, that ye may look upon it, and remember all the commandments of the LORD, and do them;
Matthew 5:19
Whosoever therefore shall break one of these least commandments, and shall teach men so, he shall be called the least in the kingdom of heaven: but whosoever shall do and teach them, the same shall be called great in the kingdom of heaven.

Matthew 22:40
On these two commandments hang all the law and the prophets.

Luke 18:20
Thou knowest the commandments, Do not commit adultery, Do not kill, Do not steal, Do not bear false witness, Honour thy father and thy mother.
Ten Commandments
Weekly Bible Verses of Tem Commandments on Christian Lawn Signs

Ephesians 3:20:
Now to him who is able to do immeasurably more than all we ask or imagine, according to his power that is at work within us,

Matthew 11:30:
For my yoke is easy and my burden is light."

Genesis 1:27:
So God created man in his own image, in the image of God he created him; male and female he created them.

Colossians 3:12:
Therefore, as God's chosen people, holy and dearly loved, clothe yourselves with compassion, kindness, humility, gentleness and patience.
We thank you for visiting our site. Life Chain