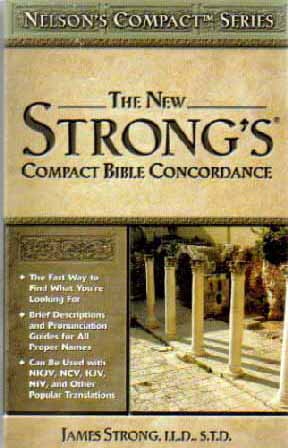 Strong's Exhaustive Concordance
Strongs Exhaustive Concordance Online
The Strong's Exhaustive Concordance is the most complete, easy-to-use, and understandable concordance for studying the original languages of the Bible. Combining the text of the King James Bible with the power of the Greek and Hebrew Lexicons, any student or pastor can gain a clear understanding of the Word to enrich their study.



The Strong's Exhaustive Concordance is the most complete, easy-to-use, and understandable concordance for studying the original languages of the Bible. Combining the text of the King James Bible with the power of the Greek and Hebrew Lexicons, any student or pastor can gain a clear understanding of the Word to enrich their study.

The Strong's concordance is a very useful tool for studying the scriptures. It takes every single word of the King James Version and lists where each word can be found in the scriptures. It is useful for locating scripture verses that you know the words to, but don't know the book, chapter and verse. 

Strong's Concordance includes: The 8674 Hebrew root words used in the Old Testament. (Example: Hebrew word #582 in Strong's) The 5624 Greek root words used in the New Testament. (Example: Greek word #3056 in Strong's) James Strong did not construct Strong's Concordance by himself; it was constructed with the effort of more than a hundred colleagues. It has become the most widely used concordance for the King James Bible.
Try it online right here: Strongs Concordance
Strong's Concordance in Hebrew
What is the Hebrew word for "Man" in the Old Testament? Checking the Hebrew word for man online in Strongs Concordance: H582
For any word in Hebrew, check Strong's Concordance here: Strong's Hebrew Concordance For studying the Old Testament, the Hebrew word study is very popular among serious Bible studying minsters.
Each original language words are given an entry number in the dictionary of those original language words listed in the back of the concordance. These have become known as the "Strong's numbers". The main concordance lists each word that appears in the KJV King James Version Bible in alphabetical order with each verse in which it appears listed in order of its appearance in the Bible, with a snippet of the surrounding text (including the word in italics). Appearing to the right of scripture reference is the Strong's number. This allows the user of the concordance to look up the meaning of the original language word in the associated dictionary in the back, thereby showing how the original language word was translated into the English word in the KJV Bible.

New editions of Strongs Exhaustive Concordance of the Bible are still in print. Additionally, other authors have used Strong's numbers in concordances of other Bible translations, such as the New International Version and American Standard Version. These are often also referred to as Strong's Concordances.